One Call Now
When we have a closing/delay/early dismissal a message will be sent via the "One Call Now" system to families signed up for that system. Also, a notice will be placed on our school website at: http://heuvelton.schoolfusion.us/ and on FACEBOOK at:
http://www.facebook.com/pages/Heuvelton-Central-School/253841487987952?sk=wall

The district also contacts the following television stations regarding school closings or delays:
NEWS 10 NOW, WWNY and WWTI.
Food Pantry Date Changes

The pantry will be open on Thursday, December 19 from 3:30-5:00, not on Thursday, December 26.

Cybersecurity Tips
At Heuvelton Central School we have a 1-to-1 technology environment where every student has access to a chromebook or computer. Many homes in the district also have internet access, and most cell phones now provide full internet access. With increasing technology use comes the need for greater awareness of cybersecurity issues.

Here are some general cybersecurity safety tips to use at home and at work:
Never disable browser security for increasing functionality or ease of use.

Avoid websites that want to install software that you didn't ask for.

Avoid clicking on phishing emails.

Avoid clicking on links that you're not sure you can trust/look suspicious.

Avoid downloading apps, extensions, or items that aren't familiar to you.

Use antivirus software, and enable security on your computer/laptop.

Enable auto updates or routinely update your operating system and browser software.

Always protect your usernames and secure passwords.

Always be on guard when you interact with strangers online and avoid oversharing.

Always be on the lookout for habits or actions that might place you and your information at risk.

Control your internet security and privacy settings and check them regularly.

Consider adjusting the security settings of your browser, such as blocking or limiting cookies.
(Modified from Utica National Insurance Group cybersecurity tips)
Mission Statement Writing Team

The Mission Statement Writing Team has decided to pursue a mission statement based upon the acronym PRIDE. The group brainstormed the words in this survey for each letter of PRIDE, help us out and choose the words you think fit best! Follow this link to fill out the follow-up survey: https://fal.cn/35al2

New York State School Report Card
The 2019 New York State School Report Card has been publicly released. The Report Card includes the 3-8 New York State Assessments, 4 & 8 Science, NYSAA, NYSESLAT, and Regents exam results for all schools in New York State. You may access the Public Data Site to review these results.
Teamwork Speaker

Mr. Cale Sargent spoke to K-6 about the importance of teamwork. Cale is the son of HCS 6th grade teacher, Mr. Sargent. He attended Heuvelton until third grade and graduated from OFA. He is a sophomore on the St. Lawrence University men's basketball team. He exemplifies teamwork by looking out for his teammates. His team encourages one another and motivates each other both on the court and in the classroom. Thank you Cale for teaching us about Teamwork!

Literacy Celebration

Students in Mrs. Fennessy's and Mrs. Cushing's third grade classes celebrated becoming narrative authors by sharing their problem stories with each other. Every student worked extremely hard at making sure their writing started with a hook, was told bit by bit, and used dialogue to bring their problem story to life. We ended this unit with a bang by popping confetti to celebrate our amazing third grade authors!

Susan Roth Visit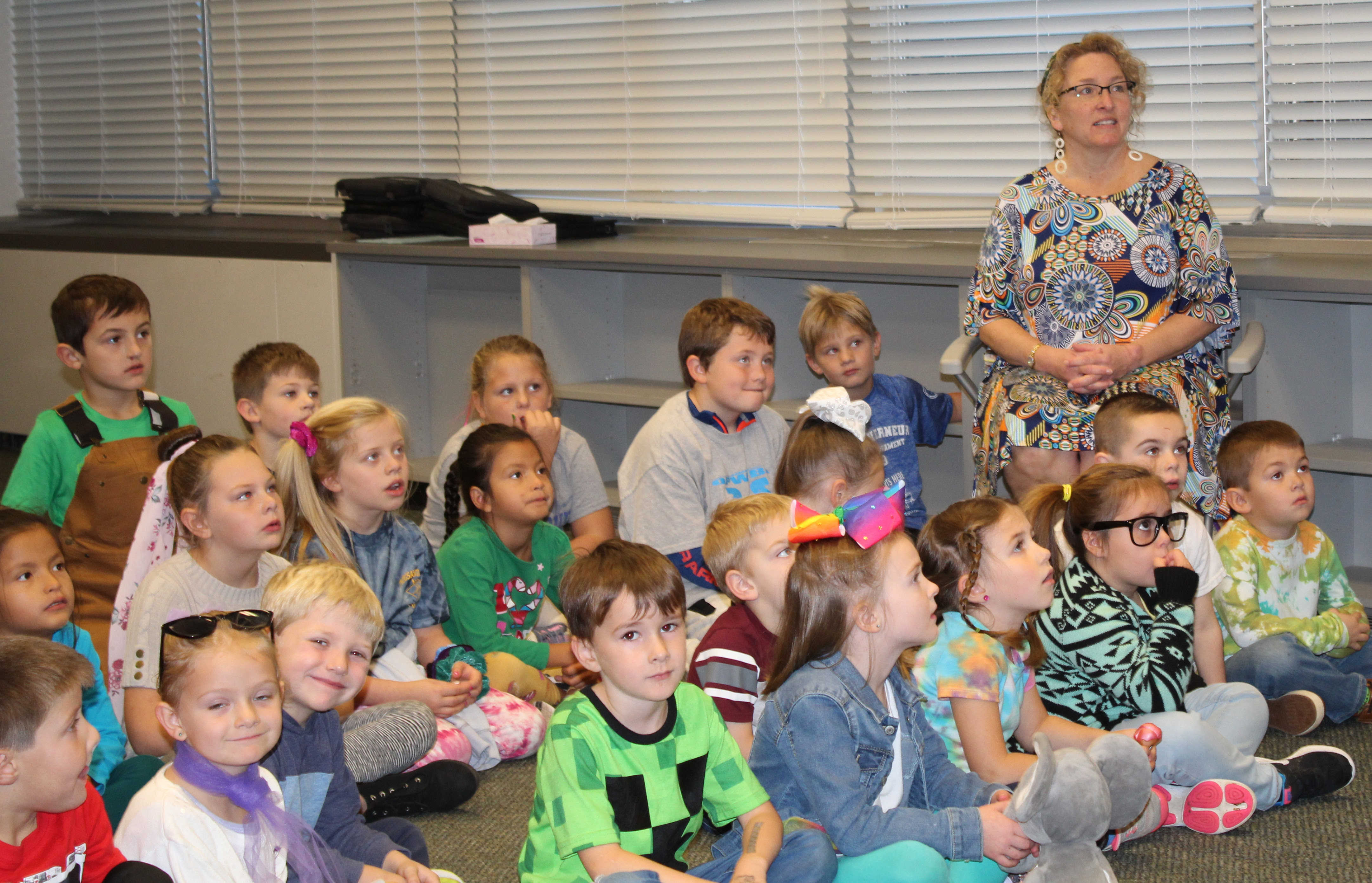 Author/Illustrator Susan Roth came to Heuvelton for the day on October 23. She spent time with students in grades PreK - 6th. Students were given the opportunity to purchase one of her books and have her sign the book for them.

Award Winners

K-6 Award Ceremonies were held to celebrate students, here are some of our 5th grade winners! Great job,

bulldogs

!

Ties and Tutus

The above students were chosen for the gratitude trait. Gratitude is the quality of feeling and expressing thankfulness and appreciation.

Staff Ties and Tutus

Congratulations to Marianne Weldon! Ties & Tutus recipient for the character trait of Gratitude!



Congratulations to Angie McRoberts! Ties & Tutus recipient for the character trait of Bravery! Congratulations to Kara Cushing! Ties & Tutus recipient for the character trait of Creativity!
Pulled Pork Fundraiser

On Sunday, November 3rd, the 2020 Heuvelton Europe trip hosted a pulled pork fundraiser. Funds raised by the dinner will go towards offsetting the costs of passports for each traveler. Ms. Whalen would like to thank Carol, Mark and Dave Basford for all of their help with organizing & cooking the dinner. As well as the Heuvelton Fire Department, for allowing us to hold the dinner at the Firehall, & the St. Lawrence Federal Credit Union for donating $250 towards to costs of the dinner.

38 Heuvelton Juniors & Seniors will be traveling with Ms. Whalen this summer to Ireland, Scotland, and London for 10 days. This is the third trip Ms. Whalen has taken with HCS students abroad.

Soccer Banquet

Pictured above is the girls and boys soccer teams during their athletic banquet, great season

bulldogs

!

Art Club in Ottawa

Our art club recently took a trip to Ottawa! Here you can see students with the spider called Maman. Maman is a bronze, stainless steel, and marble sculpture by the artist Louise Bourgeois.

Jabali Acrobats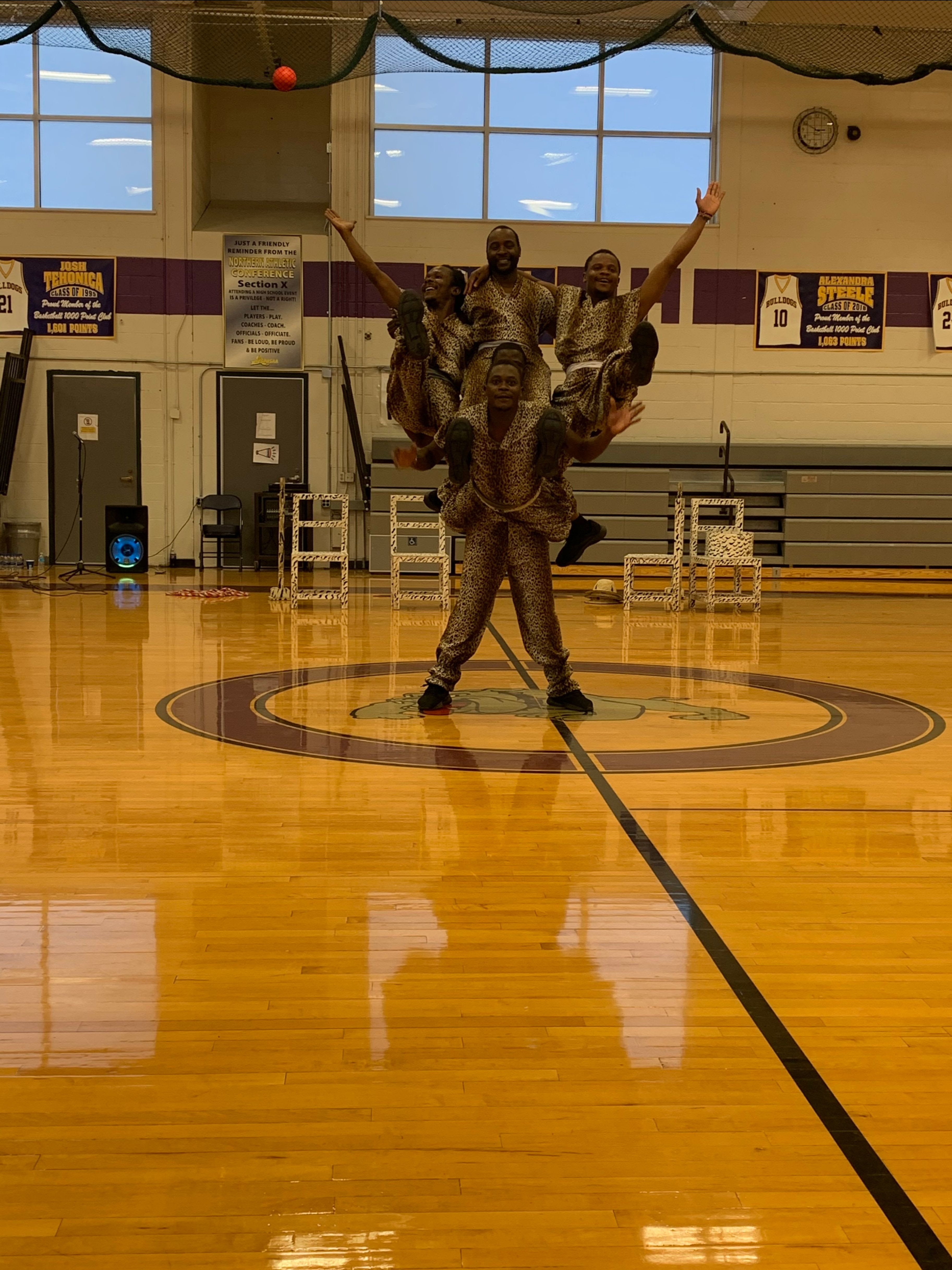 The Jabali Acrobats from Mombasa, Kenya performed for the high school. Teachers were able to join in the performance as well, it was a blast for our students!

North Country Symposium

Government students went on a field trip to the 18th annual North Country Symposium at St. Lawrence University on Monday, November 18th. This year's focus is on rural migration & how to attract, and keep, people, to/in the North Country.

Jacy Good Presentation

An emotional assembly as Jacy shares her tragic story of losing both parents and becoming paralyzed herself the day of her college graduation due to a distracted driver. To learn more about Jacy's story, follow this link: https://www.hangupanddrive.com/

Frame of Fame

Cheyenne Morris and Dillon VanCort received the Frame of Fame for working hard in school.